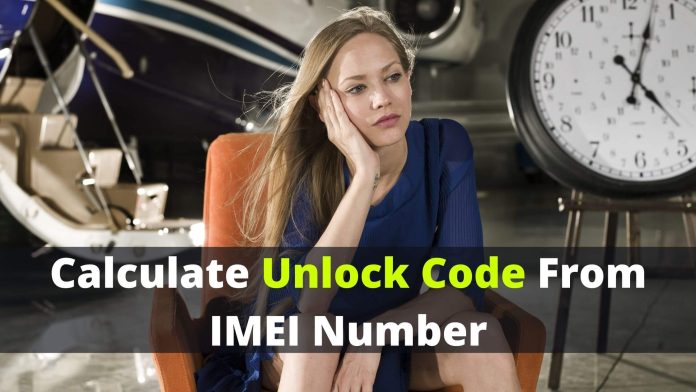 Are you using a carrier-locked phone? Do you want to know How To Calculate Unlock Code From IMEI Number? If your answer is yes, then you are in the right place. Today we are going to enlighten you about unlocking a carrier-locked phone with its IMEI number.
Unlocking a phone can be useful. We have seen a lot of cases where people were facing trouble with their locked phones. A few years ago people had to contact their carrier service provider to unlock a carrier-locked phone. Most of the time people needed to visit the service center and pay for unlocking a phone.
Nowadays we are blessed by technology. So we do not need to get harassed when it comes to unlocking a locked phone. We can unlock a phone easily from home. There are a bunch of tools available on the internet for unlocking your phone by IMEI number only.
How To Calculate Unlock Code From IMEI Number?
We have seen that carrier-locked phones are a little bit cheaper than the regular official price. Same product but cheaper. That attracts us to get a phone with one locked SIM card with it. Whenever you need to use another SIM card the phone rejects it.
Are you suffering from this exact problem? Then you don't need to worry because we are here with the simplest solution. We will solve it without downloading any app or connecting any wired cable.
Well, you can unlock your phone in three existing ways. If you are thinking about contacting your carrier service provider, you should keep some valid reasons to explain. They are not going to leave a customer without a detailed inspection.
The second way is using professional tools to unlock. It requires a large amount of money to purchase this kind of software. These tools are very heavy for personal use. You would not want to spend that much on unlocking a single phone.
Now let's talk about the third and the best one. You can use your IMEI number to unlock your phone. For this one, you need the unlock code. Though it's not free, it is the easiest way to unlock your phone. Before moving forward you need to know why the NCK is necessary for this process.
Method of calculating unlock code from IMEI number:
As you are not a software developer, you do not need to build an algorithm to calculate the unlock code. We will use some websites to get the precious code. There are also some mobile apps for this job. Technically all of them work in the same way.
So we are avoiding any kind of downloading. That's why we chose web applications. Here at first, you need the IMEI number of your phone. Do you know how to find the IMEI? Do not freak out cause It's easy.
If you are using a feature phone, you will find the IMEI under the battery. Not impressed? Ok, Try the next one. Introducing the universal IMEI code which is *#06#. Just dial this code on any phone and you'll get its IMEI number.
Now when you have the IMEI, you need a trusted website to find out your unlock code. Here are some of the trusted sites for calculating your code.
1. https://www.safeunlockcode.com
2. https://www.doctorsim.com
3. https://www.unlockbase.com
4. https://www.mobileunlocked.com
5. https://www.cellunlocker.net
All of these websites are safe and work in the same way. You can check the reviews on their websites and choose the one you like most. Now it's time to get your code. Follow the simple steps given below.
Step 1- Open any of the above websites with your browser. You can use a smartphone or PC.
Step 2- Select the unlock phone option.
Step 3- Select your phone's brand and model.
Step 4- Insert the IMEI number of your phone.
Step 5- Insert your country name and your career operator name.
Step 6- Use your valid email address to sign in or register.
Step 7- Fulfill the payment methods.
You have finished the job from your side. Now they will calculate the unlock code for your device and send it through your email address. So you must use your proper email address. If you completed the payment method properly, It can take 15 minutes to 24 business hours to get a mail with the unlock code.
Most of the time people reported getting their code within 15 minutes. Do not worry, your code will arrive anytime. If it takes too long then you can contact them from their website. Frauding cases are rare but it can happen.
Once you get the unlock code. Use it to unlock your phone. After that, you can use any SIM card on your device.
What is a carrier unlock code?
This unlock code is also called NCK which is Network unlocking Key. Well, you know that your SIM provider locks the phone with their sim. That's why your phone does not allow any other SIM card. Whenever you try to use any other sim card, a pop-up appears and asks for a unlock code.
If you use the code, your phone will be unlocked immediately. So getting this code is the most important part of our process.
Final words
It is 2021. The Internet is in everyone's hands. You should use it productively. You do not need to run after your carrier network service provider to unlock your carrier-locked phone. It is unnecessary to spend your time and extra money after this. Taking some help from the internet is a clever idea.
The above-mentioned tools are safe and recommendable. You do not need any technical knowledge to use those. Whatever you need to know for carrier unlocking a phone is already included here. Finally, I want to leave a piece of quick advice for you.
Now it should be easy to calculate unlock code from IMEI number for you. Next time before taking your device to a service expert, you must check about the problems over the internet. In some cases, it will keep you a step ahead.