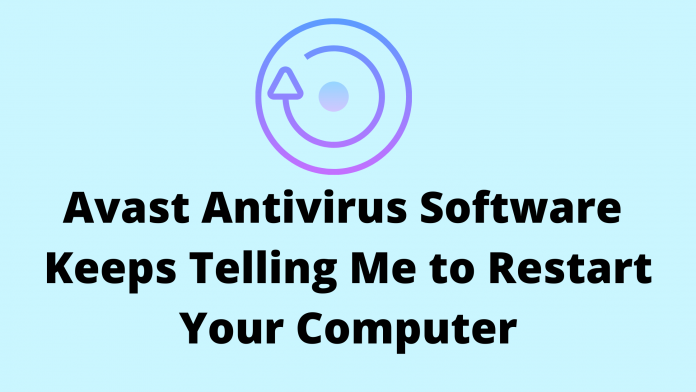 The internet is now used by all classes of people, the need for efficiency has now spread everywhere. In addition to using the internet, it's important to maintain your device, especially when it comes to security.
However, it's not possible to check all the files manually and it's difficult to find out many virus-related problems manually, that's why everyone uses antivirus. Antivirus will protect your data and prevent your device from catching the virus.
Avast Antivirus is an internet security application that provides protection against a range of malware, threats, spyware, including viruses, and ransomware. It's currently the most popular and widely recognized antivirus application and free version of the software suitable for personal and home use.
But now one of the problems that Avast users are seeing is that Avast keeps telling me to restart. If you also have this problem, stay tuned. In this article, I will explain the ways to get rid of this problem. Below I have explained this problem through some questions and answers.
Why does Avast Want to Restart my Computer?
Avast antivirus is secure, cross-platform security software. Although this software often runs in the background on your computer, some user interaction may be required. Sometimes you may see a warning message saying "Avast needs to restart your computer".
Although this application rarely shows such a warning. Sometimes it can happen that this warning message is repeated and you are getting very upset.
But there is nothing to be afraid of or disturbed by this warning message, it's a very common and simple issue for all. There are a number of reasons to restart your computer.
Avast antivirus is constantly updated, as threats or virus issues are constantly changing. So when the Avast authority adds these updates, it gives you a message to restart the computer.
If you aren't using the beta version of Avast, you should view this warning message once or twice a month. These updates are necessary to guard your computer. So, you are encouraged to restart your system as soon as possible.
If you skip restart, many updates get stuck then Avast fails to do this job perfectly. That way, you'll continue to receive alert messages to restart.
How to Disable Avast Restarts?
There is no way to completely disable Avast's requirements to restart your computer. But you can do this when the restart alert comes, you can start the restarting process sounds better according to your time without restarting immediately. Because this time Avast offers you this option and you can set the time according to your convenience if you want.
But now we all put our computer in sleep mode. However, I would suggest that, if possible, shut down your computer once a day or once a week. It will reduce pressure on your computer and give better performance.
However, if you think the restart is much more trouble than using antivirus. Then you need to uninstall the Avast antivirus software to get rid of the problem of the complete restart alert.
Why should you use Avast instead of another antivirus?
There are many types of antiviruses available today. So, you may be wondering why you should use Avast instead of another antivirus. No problem, I will now free you from this dilemma of your mind.
Although there are many types of antivirus software on the market, no other software offers as much as free Avast. That's why it is the most popular and used all over the world.
Below is a brief description of the complex issues that Avast Antivirus protects your PC from, and which will help you understand why you should use Avast.
Virus Protection
The main task of an antivirus application is to fight against viruses and other types of malwares in a perfect way. And hopefully, as you know, these viruses will not only damage your data once they enter your system, it is capable of reducing the overall performance of the system.
If you have Avast software installed on your PC, it detects and removes this malware before doing any harm to your computer.
Web protection
While browsing the internet, users may face various threats by cyber attackers. As a result, your credit card and bank account details may fall into their hands, which can be extremely dangerous for all. Avast antivirus will protect you from this cyberattack for free.
Spam Protection
Spam viruses are viruses that enter computers through spam emails and advertisements. The most frightening thing is that if you don't read these ads or news, even then, they may enter the system without your knowledge.
If the spam virus can enter your computer's system, your data and system are sure to suffer a lot.
Firewall feature
Almost all antivirus including Avast, have firewall features. The Firewall is a very nice feature, which allows you to protect your PC in two ways. It double-checks the information sent or received here so that no hacker will be able to extract any personal information from your system.
Cost-Effective
There are many premium versions of antivirus programs for a monthly/annual subscription fee.
But the good news is that there are other anti-viruses that offer almost the same level of protection for free, and even if you want to buy a premium version of them, they are relatively inexpensive. Among them, Avast offers the best benefits for free.
Final Thought
Avast Antivirus may be a family of cross-platform Internet security applications developed by Avast for Microsoft Windows, macOS, Android, and iOS. People have been using Avast antivirus for a long time. Overall, it's definitely a great free antivirus application for all.
It's constantly updated because there are many types of viruses and they are constantly changing their type. Due to this constant update, the Avast application warns the viewer to restart the computer after a few days, because Avast adds its updates through the restart.
Above I have described the problems caused by Avast's restart alert and various other issues, which I think are important to know about all the anti-virus uses. So if you are an Avast user or you are thinking of using Avast then it is important for you to have a good idea about this issue. Now that you have read the article, hopefully, you have benefited a lot.