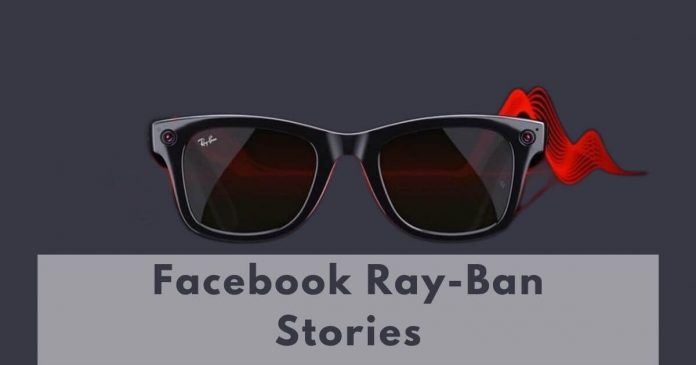 Smart glasses are not new these days. Many giant tech companies tried to change our view with AR smart glasses. Google, Snapchat, Facebook, and many others worked on it. For some reason, people actually did not think this gadget was that useful. But it never stopped the production of smart glasses.
Recently Facebook just launched a smart glass named Ray-Ban stories. People are already excited about it. Are you one of them? If yes, then this blog is for you. Today we will let you know everything about Facebook's Ray-Ban stories.
As you are curious about it, you should think about its practical uses. There are few things you should check out before buying one. Now guess what? We have done this checking kind of stuff for you. All you have to do is just make a decision.
Everything you need to know about Facebook's Ray-Ban stories smart glass
You have seen this gadget in many Sci-Fi movies. We think this concept came straight out from movies. But Facebook is not the one that started it. It is not clear who actually invented smart glasses. Google is the one who first wanted to bring smart glasses to market.
Although that attempt failed, Smart glasses are really in the market now. Following this trend, Facebook merged with renowned sunglass brand Ray-Ban and built this smart glass. It was released earlier this month on September 9 and now it's available on the market.
Ray-Ban Stories smart glass looks
You cannot call it a complete AR sunglass that most people thought about. It looks like normal Ray-Ban sunglasses. But the frame is a bit heavier. There is no specialty in the glasses. The plastic-built frame is the magical part. Both of the front corners contain cameras.
On the right side of the frame, you will find a switch for capturing. A touchpad is also included in the right arm for controlling volume. Two decent mini speakers are placed close to your ear. That's not all. You will see a not-so-bright LED pixel in front of the frame. It indicates while recording or capturing.
They tried to make the cameras invisible, which surely did not happen. But overall you will love the looks and you can change glasses if you want.
Read Also : 20 Mobile Apps In 2021 Have More In Common Than You Think
Facebook smart glass features
There are two 5 megapixel cameras in the front of the frame. You can command it in two ways. Either you can call Facebook assistant for capturing or you can simply use the button switch on the right arm. The camera can record video for 30 seconds only. Facebook will collect data and the captured images and videos will be stored on a new app called Facebook View.
The virtual voice assistant works fine in crowded areas. It responds when you say "hey Facebook". After that, you can order to take pictures or record videos whatever you want. The weird thing is the button works reversely. It takes pictures when you long-press and starts recording video if you tap once.
That won't bother you much cause you will be used to it. You can use them to answer calls as well. For controlling volume, you have to swipe frontward and backward on the touchpad. The speaker's position is so good and technically diverted toward your ear. So no one will get disturbed by it.
Remember the LED blinking light we talked about? It's hard to notice in daylight but can be visible in a dark environment. That is the reason we liked it. An LED light in front of a sunglass looks awkward.
Read Also : Best Free Music Downloader For iPhone 
Should you buy Facebook's smart glasses?
To answer this we need to put together some important user's opinions. That is the only way to find out its worthiness. We know Facebook and Ray-Ban both are trustworthy. But you have your own choice. So we are not directly saying what you should do. It's up to you. You know different people have different points of view.
First, let's talk about its camera quality. Your phone's camera is way far better than its 5MP camera. The first-person viewing angle is great. But any other smart glass can give you the same output. Recording video only for 30 seconds feels like the gadget is from an old era.
Besides being a portable device, 30 seconds is not enough for recording video. Other low-budget smart glasses provide more than that. There is a main issue with video recording in Ray-Ban stories. It heats up if you record video continuously. That feels embarrassing because the arms stay attached to our skin.
It is a 299$ device. No one expects this type of faultiness after spending that amount of money. We think it can be fixed by an update. So there is no reason to overlook it. You know Ray-Ban sunglasses are always the best in quality. It can be a major selling point. Just a pair of sunglasses from Ray-Ban can cost a lot.
The colors they offer will surely impress you. You can not compare these high-quality glasses with others. Another satisfying thing is the charging procedure. The sunglass softly attaches to the magnetic charging surface when you put it in the case. You do not need to worry about cables, ports, and others. You will not find any problem with charging and battery backup. Yes, its battery backup is also impressive.
Summary
There are many branded and unbranded smart sunglasses out in the market. When it comes to sunglasses, looks and style matter a lot. Ray-Ban Stories has both of them. If the picture and video quality is your main purpose of getting a smart sunglass, you can skip it.
We really didn't find any AR-related activities in this gadget. But if you are one of them who loves to stay up to date on Facebook or other social media, this one can make it easy for you. Handy tech things are always preferable. Personally, I would love to use one for capturing moments on the go.